Payment methods
Accepted forms of payment at our online shop:
Payment in Advance / Direct deposit
Having chosen the payment method "Payment in advance", you'll receive our bank details and your order number in our order confirmation via eMail. Please transfer the total amount including postage to our mentioned bank account and use your order number (eg ORDER 12345) as purpose in your bank transfer.
Once received the payment we will prepare your order for delivery.
PayPal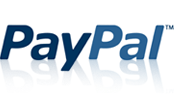 PayPal is the online payment service that allows you to pay at online stores safely, easily and quickly - and for free. PayPal payments arrive quickly. Goods can be shipped immediately and you will normally receive them earlier.
You need to register with PayPal before you can choose this payment method. You don't need to top up your PayPal account before you can shop. You simply need to have your bank account, credit or debit card securely stored with PayPal.
In our webshop you use PayPal simply by selecting it during your order process as a method of payment. Shortly before an order is finished you will be directed to the PayPal website, where you can complete your payment. After a successfully completed payment PayPal redirects you back to our shop to enable you to complete your order.
All you need is your PayPal Login - user name and password - for quick, easy payment. You'll receive a seperate eMail confirmation for every PayPay transaction.
Find further information on www.paypal.co.uk.
Payment by Credit Card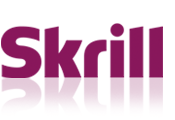 Buy practically and without problems via credit card number: Pay comfortably with Mastercard, American Express, Diners Club or American Express. You pay the invoice amount via the online suppliers Skrill. Of course, your data are safe with us and will by default only transferred in encrypted form.
Important: To use this service, you must either have a moneybookers account or register or log in to our shop (not available if "go to checkout as a visitor" was selected).
With MasterCard SecureCode and Verified by Visa your shopping will be now even more secure. When paying, it opens an extra box that connects you with your bank. There you enter your personal password and thereby identify yourself as the legitimate card owner. If you have not yet used MasterCard SecureCode or Verified by Visa, you will in addition have the opportunity to create a password during the payment process to secure your transaction.
Creditcard Verification
Creditcard Verification is an additional protection method for online credit card payments. By means of a password query the registration and authentication of a creditcard owner is verified. The process serves the interests of online buyers and gives more protection against unjustified use of your credit card while shopping online. You can shop more safely with these procedures.
To register for one of these methods, the card owner needs:
the creditcard number
the expiration date of the card
certain particular details that will be asked during the registration process - eg.g. the number of your bank account or parts of it.
During the process of registration the card owener defines a personal password. The guidelines how to create ones password are described during the process of registration. An individual initial address of welcome has to be created by each card owner, too.
As soon as you've registered you will find a pop-up window with your individal welcome address and a query of your password.
By entering the correct password the verification system ensures that you are the authorized owner of your creditcard and the payment is confirmed immediately. So the buying will be completed and you'll receive a confirmation.
Important: If your individual and personal address of welcome is not correct, do not enter your password but contact your bank immediately.
Further informtion you can get on www.skrill.com.