Payment methods
Accepted forms of payment in our online shop:
Please note: Some payment methods may not be available in your country. After you've chosen the destination for your delivery, our system will only offer you those payment methods that are available for your country.
Payment in Advance / Direct deposit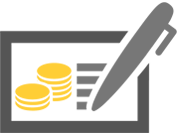 Having chosen the payment method "Payment in advance" , you'll receive our bank details and your order number in our order confirmation via eMail.
Please transfer the total amount including postage to our mentioned bank account and use your order number (eg ORDER 12345) as purpose in your bank transfer. Once payment is received, your order will be sent out.
PayPal Express

Fast and safe payment just a few clicks away
Using PayPal is free for buyers
Free and unlimited buyer protection
PayPal registration needed
You receive email confirmation for each transaction
PayPal is the online payment service that allows you to pay at online stores safely, easily and quickly - and for free. PayPal payments arrive quickly. Goods can be shipped immediately and you will normally receive them earlier. You need to register with PayPal before you can choose this payment method. You don't need to top up your PayPal account before you can shop. You simply need to have your bank account, credit or debit card securely stored with PayPal.
In our webshop you can simply select PayPal Express during the order process as a method of payment. Shortly before an order is complete, you'll be directed to the PayPal website, where you can complete your payment. After a successfully completed payment PayPal redirects you back to our shop to enable you to complete your order. All you need is your PayPal Login - user name and password - for quick, easy payment. You'll receive a separate email confirmation for each PayPal transaction.
Find further information on www.paypal.eu or www.paypal.com.
Payment by Credit card
A PayPal service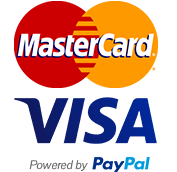 Quick and safe payment worldwide
Credit card information is securely encrypted
Fast receipt of your goods
No registration with PayPal required
You receive email confirmation for each transaction
Pay by credit card hassle-free: Convenient and practical payment using your MasterCard, VISA Discover or AMEX credit card. You pay the invoiced amount via the online service provider PayPal.
After completing your order you will be redirected to the PayPal website and asked to fill in your data, which is of course transmitted in an encrypted form. To avoid problems or delays, make sure that the information you give is correct. As soon as you have confirmed the information on PayPal, you will be returned to your order summary. PayPal will then send you confirmation of receipt of payment.
Please note that you do not need to have a PayPal account to use this service, and your order is processed without delay.
Further information can be found on www.paypal.eu.